Golf Fundraiser
The Julie Kukulis Memorial Golf Outing takes place each fall and is a highlight of our school year. Ms. Julie Kukulis was a beloved teacher at Little Lambs from 2008–2018. She passed away in March of 2020 however, her memory lives on in our school and the lives of those she molded as a teacher's aide for so many years. She and her family were and continue to be wonderful supporters of our school. We thank them for her years of service and their generous support over.
8th Annual Julie Kukulis Memorial Charity Golf Outing
This year's golf outing was another great success thanks in large part to our gracious hosts at Thornapple Pointe Golf Club as well as all of our generous sponsors and donors. This is our premier fundraising event for the fall, and we appreciate all of the relationships with local families and businesses that we were able to build/continue this year.
Golf Sponsors
We would like to extend another big thank you to our 2023 golf outing sponsors and golfers. Sponsorship and donations for this event play an integral role in making our annual charity golf outing a success, as well as benefiting our school financially. We appreciate your support this year and look forward to including new names alongside yours for next year's event.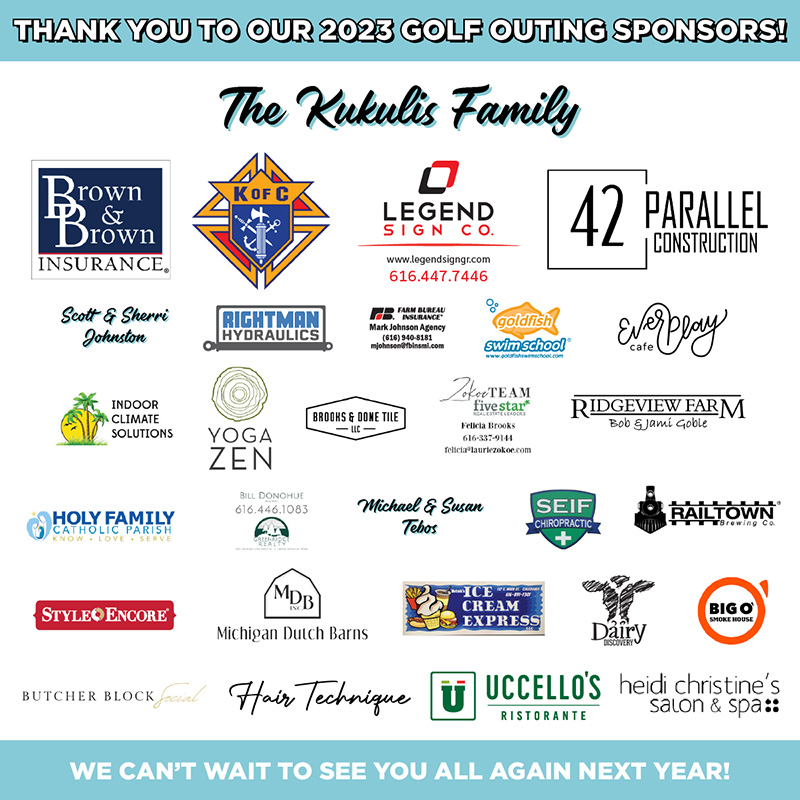 The following is a list of collapsible links. After selecting the link, additional content will expand. Arrow down to read the additional content.