Little Lambs Teachers & Staff
Our teachers are thrilled to be a part of this exciting first chapter of your Little Lamb's life. We truly care about the children in our charge and are here to help them reach their God-given potential every step of the way.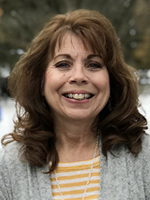 Kathy Kokot
Director & Teacher
Biography
About Kathy Kokot
Hi! My name is Kathy Kokot, the director and teacher at Little Lambs Preschool. I've been blessed and married to my husband, Doug, for 37 years, and I have two awesome boys, Jordan (and his wife, Jenna) and Spencer (and his wife, Stephanie). I graduated from Central Michigan University where I majored in child development and received my teaching degree. After graduation, I taught for four years, after which I became a stay-at-home mom—the best time of my life! For two years of my stay-at-home time, I substitute taught for the Caledonia School District. I also have had the pleasure of teaching Confraternity of Christian Doctrine (CCD) for ten years at St. Jude Parish and at Holy Family Parish in Caledonia. I've been at Little Lambs for 17 years and have loved every minute of it! My heart has always been with young children and I am thankful to be a part of this wonderful Christian preschool.
Close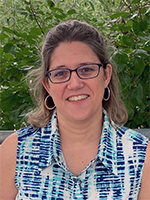 Kristina Fairchild
Teacher's Assistant
Biography
About Kristina Fairchild
I am first a Mom to Ellee, 19, and starting her Sophomore year at WMU for Pre-Occupational Therapy, and Katie, Forever 16. My best friend is my husband of 23 yrs, David. We both love the card and board games, the outdoors, and spending time with our family. I love cats and Star Trek. My cat's name is Boothby which is a reference to an important but not well-known character in the Star Trek series. I also like to wear "space and star" clothing!
I have a true passion for children and especially love the 2-5 yr old range! I am the oldest of 4 girls and my mom provided childcare when we were growing up. I have always been the little mom. I have a degree in Education from WMU. I was certified to teach home economics including Childcare kindergarten through twelfth. Of course, our plans don't always follow a straight path and I actually spent about 10 yrs building a career in the commercial construction industry directly out of college. I eventually felt a different tug and was a stay-at-home mom for a few years, providing occasional babysitting and substitute teaching.
It was during my substitute teaching years that I realized that I had a connection with the younger kiddos even more so than the middle and high school students that I originally wanted to teach. I was asked often to come back and substitute for Y-5 through 1st-grade classrooms.
Once an opportunity to provide regular childcare became available, I decided the best thing for my family was to become licensed. I was a licensed in-home provider for seven years. Once Katie passed away, I needed a bit of a change and took a few years away. This past year has definitely been a struggle with the Covid pandemic but it was also a heart-opening, contemplative year for me. It gave me the opportunity to take a childcare position in a group childcare home caring for 12 kids age one to four. I decided that working with that age group is my true passion and what God has called me to do.
I have also had a long history as a volunteer at Holy Family VBS and CFF, especially as the Early Childhood 9 a.m. Preschool teacher. I have a strong desire to grow my Faith and be able to express it with little ones in my life.
Close